10 February 2023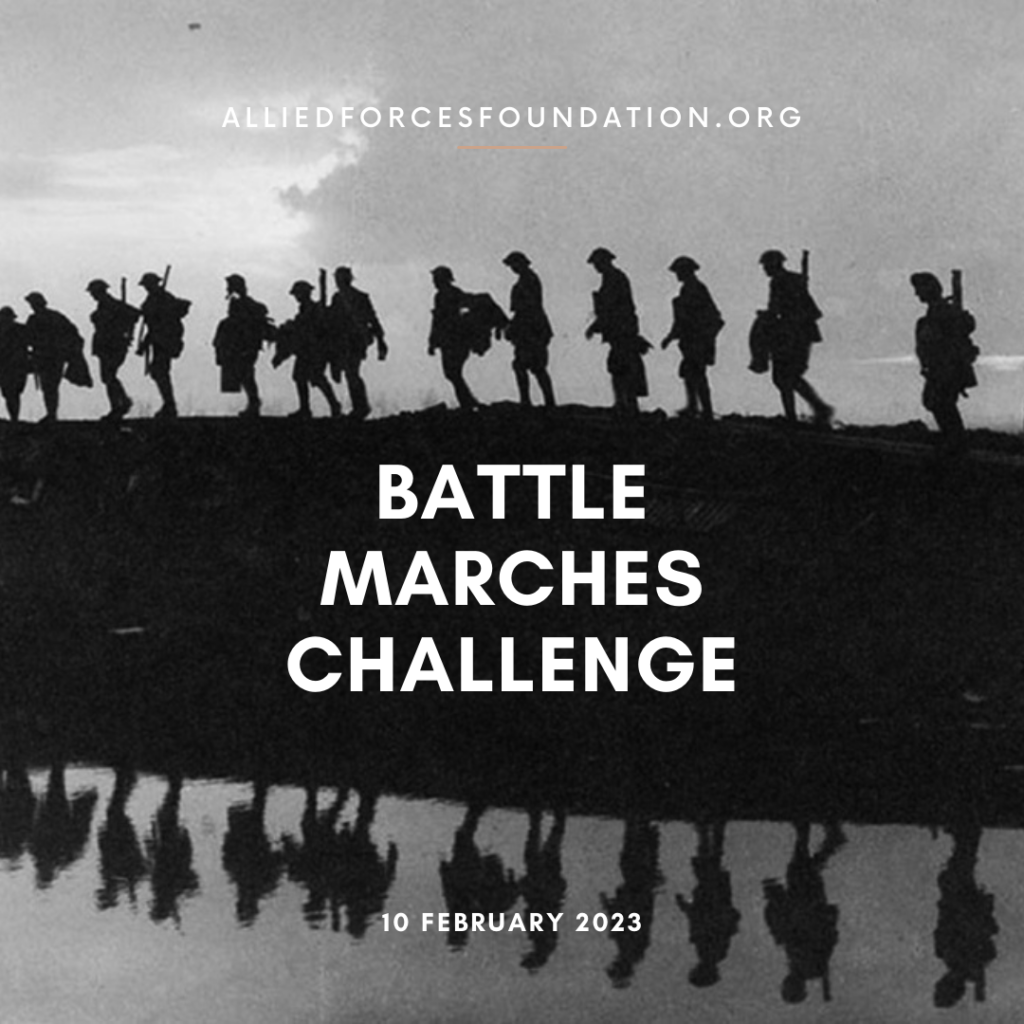 Allied Forces Foundation (AFF) Battle Marches Challenge is a virtual event that remembers some of the amazing accomplishments from past battles and conflicts, these marches were extremely arduous and challenged the heart and spirit of the warriors who undertook them.
We are not expecting you to do it in the same conditions or over in the same time frame but we want you to inspire your friends and loved ones to take part and set up teams to take on legs of a distance or complete together over the challenge timeframe.
The Battle Marches Challenge can be 40mile, 56mile, 150mile, or 500mile in 30 day period from 14 February to 14 March. This challenge is designed to get you outside with friends and family, at the same time or over 30 days.
You can select, walk, run, bike, row the route, and then record your distance as an individual or as a team on the AFF Strava.
The goal is to get you, your family, and your friends outside to hike, walk, run, bike, or row while supporting a great cause.
This February 14th, take on one of the following challenges for the AFF and raise awareness and funds for our great cause while doing something good for you, too.
Battle Marches Challenge Goals will celebrate the heroes who completed these amazing achievements:
Seine March 40-mile
Port Stanley March 56-mile
Benghazi March 150-mile
Merrills's Marauder's 500-mile
Select a challenge by reading the story of who was involved, when it happened, and why?
This challenge is over 30 days and is free and open to everyone! You can register by yourself then set up a team or join an existing team. Take the opportunity to encourage one another through the event and post as much as possible on social media using the AFF sites and #BattleMarches22.
There is no registration fee and no commitment to fundraising but you'll be sent a fundraising page on registration and every bit you can raise will help us with our mission.
Please remember to adhere to any COVID-19 restrictions in place in your location.
Battle Marches Challenge T-shirt will be sent to participants on completion of the challenge and the shirts are available from the AFF shop.