"There have been many amazing experiences that have made me happy for a moment or more, but nothing that made me feel whole again and believe in myself as I once did like this trip."
 "That purpose I found was that I can still be helpful, so I threw my plans of going for gold away and made new ones."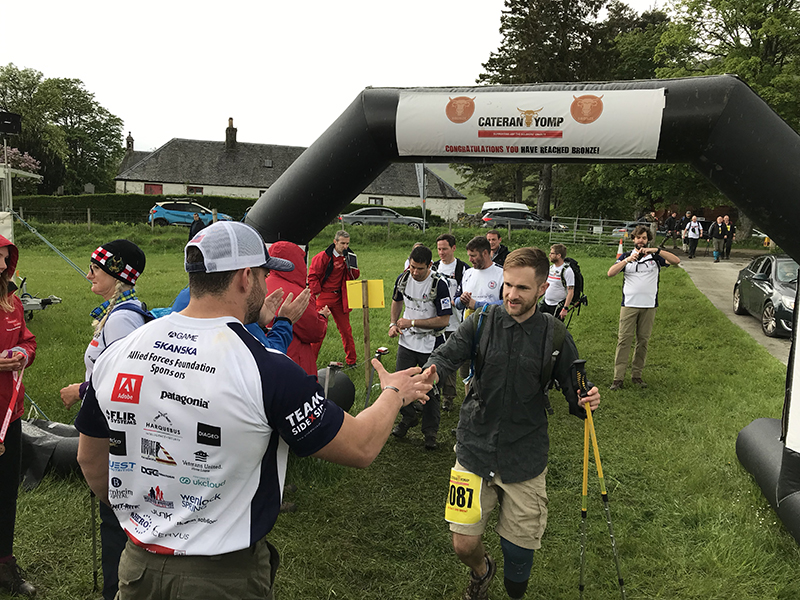 Testimonial from 2019 Yomp Participant
I was an army medic with combat engineers doing route clearing in Afghanistan. I was blown up five times in IED blasts. 3 struck the trucks I was riding in, and 2 I was on the ground within 20 yards of the IEDs.
From the blasts I encountered, I had some health issues, from traumatic brain injuries to fractures in my spine, among many others that forced me to medically retire. Once I retired and was told that I am not allowed to work anymore, I fell into a bad place cut people out of my life, stopped going and doing things I used to love doing. I knew I needed a change or I would not be around much longer. 

I had a friend recommend me to Allied Forces Foundations Cateran Yomp in Scotland. It's a week-long trip in Scotland where you get to do all kinds of stuff leading up to walking of the Cateran trail with three different goals-bronze 22-miles silver 36 miles or gold 54 miles through the Scottish highlands in 24 hours.
When I got accepted to go, I had my sights set on gold so I started to train. I found out in the middle of January I was going in June to do this but when I arrived with the group in Scotland, something happened that I never could have imagined. I found a purpose again I meet so many people just like me some doing better some doing worse.
 That purpose I found was that I can still be helpful, so I threw my plans of going for gold away and made new ones. Leading up to the yomp we were going here and there but what we were really doing is building bonds with people that were going through struggles. I met a guy who told me that he was worried that he would not be able to even make it to bronze and I told him that WE would make it together. Others heard and wanted to help get us to bronze as well.

There were a few of us that day on the Cateran trail that started together then as we were walking a few more joined us, either because they were not fast enough to keep up with the group they started with or they had to stop for medical reasons and did not want to slow down anyone. But there was no slowing down our group! We were a unit went as fast as the slowest person and we were not going to let anyone get left behind. We were the last ones to finish the bronze section of the course but we finished it together and I would not change that for anything! 

Since the trip to Scotland, I now have connections with people I never would have that have helped my healing and I hope I have helped with there. 

I just want to say thank you to Allied Forces Foundation for helping me and so many others find new ways of healing you have saved and changed so many lives. I know mine will never be the same.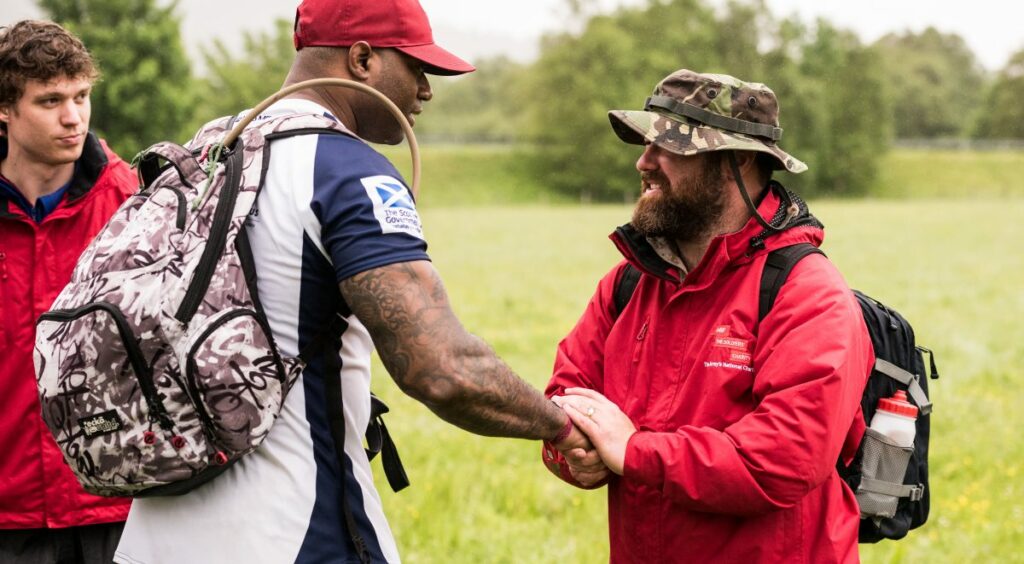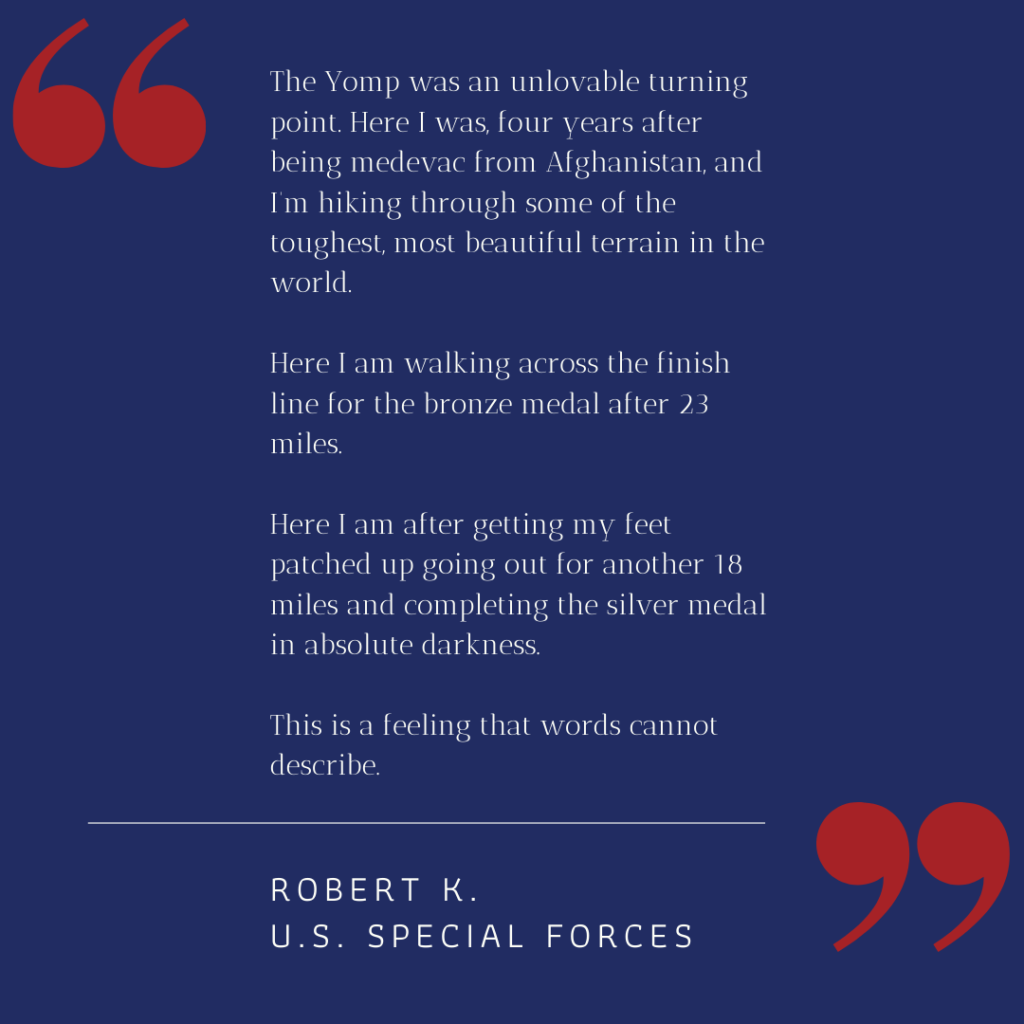 Allied Forces Foundation (AFF) is an amazing charity that hosts events that brings together true heroes from multiple nations who served in recent conflicts and challenges them, mentally and physically, in order to facilitate their healing as a team. The love and dedication towards participants from folks such as Stu and Nicola is unprecedented. There are many amazing charities out there, but what AFF has been able to do through events such as the Cateran Yomp is second to none. AFF's tireless work ethic in bringing everyone together and their ability to organize such an amazing event truly fostered a camaraderie that I have not experienced since operating and patrolling in some of the world's most austere and dangerous locations. Bringing together such true heroes and how seamlessly everyone integrated in togetherness was a joy that I am struggling to put into words.
I was truly humbled to be a part of such an event and to be around men and women that are my personal heroes. We came together and synced immediately in not only an emotional bond, but with a grueling physical challenge that many, including myself, did not think they could complete only a short time ago because of the physical and mental trauma of war.
The Cateran Yomp was the most grueling, yet gratifying challenge I have ever taken on. As I hiked through some of the most breathtaking scenery I ever witnessed in my lifetime, I often daydreamed and found myself in tears. As you walk mile after mile, hour after hour, your insecurities, anger, and thoughts of what you used to be melt away. Every person that went through this has different emotions, demons, different love, and different forms of guilt and hope. For me, the last time I put my body through something like that, and hiked in that manner was when I was in Afghanistan. I performed over 100 combat patrols on my last deployment until I was medevac 10 months in. As dangerous as that was, I still long for that. I longed for that camaraderie, that closeness with my brothers, and that physical challenge. After being medevac, and coming home and being in the hospital, recovering, etc, I always longed to experience something like that again, that sense of challenge, that sense of purpose.
As I walked through the Highlands and looked at a beauty that few have ever seen, it gave me the opportunity to reflect on my life and everything that I have accomplished and everything that I regret not accomplishing. As the miles went on, and my body started to experience exhaustion, pain, etc. my newly acquainted brothers and sisters continued to push me to keep moving, to believe in myself as I once did before being injured. I began to experience what hope is again. While hiking so many thoughts raced through my head. Joy, sorrow, regret, hope….I thought of my brothers and sisters from the past that are no longer with us, or are altered forever emotionally and physically from the horrors and glory of war. I kept pushing myself to do this for them. What I didn't realize at the time was, not only was I doing this for them, but I was doing this for myself to be whole again.
Just a few short years ago, I had a cane, I couldn't stand up without falling over because my balance was so bad, and my physical injuries that nagged at me at times were difficult to overcome, and I was angry because of it.
The Yomp was an unlovable turning point. That was then, this is now, as here I was, four years after being medevac from Afghanistan, and I'm hiking through some of the toughest, most beautiful terrain in the world. Here I am walking across the finish line for the bronze medal after 23 miles. Here I am after getting my feet patched up going out for another 18 miles and completing the silver medal in absolute darkness. This is a feeling that words cannot describe.
In the last four years I have looked to so many different things to help me feel alive again, to help me feel whole again. There have been many amazing experiences that have made me happy for a moment or more, but nothing that made me feel whole again and believe in myself as I once did like this trip. Of all of the good and bad of serving and being in so many conflicts and dangerous situations, I will always miss the camaraderie, challenging myself to push the limits, and the satisfaction and elation that comes with that journey and its completion.
The entire week with these heroes, culminating in the challenge of the Cateran Yomp, made me feel this way again for the first time since I was injured, and that feeing has been sustained. I truly savor the moment, and continue to think about that journey every day since completing the Yomp. Not a day goes by since that amazing trip that I don't think of the brothers and sisters I spent the week with, and how the overall experience changed my life and put me back on track in a lasting way. I still have a long journey ahead of me, but for the first time in years, I believe in myself and I know that I can accomplish anything. Through the Yomp my dream is that others like us can feel this life altering event that I have been so blessed to attend.